Georgetown Municipal Water and Sewer Service - Georgetown, Kentucky
Our focus is on water distribution and wastewater treatment to over 14,000 customers in Georgetown,Stamping Ground,Sadieville and Scott County, Kentucky. Our mission is to provide our customers with the best possible product at the lowest possible price, while maintaining one of the most up-to-date treatment systems in the state.
GMWSS Portal
• Make a Payment
(Credit / Debit / e-check)
• Schedule Payments
• Pay by Text
• Check Account Balance
• View Usage History
• Sign Up for E-Bills
(Additional Info)
---
Spring Hydrant Flushing
Georgetown Municipal Water & Sewer Service (GMWSS) will begin flushing fire hydrants in the Georgetown/Scott County service area on Monday, April 13, 2020, and will continue until Friday, May 15, 2020. Flushing hours will be from approximately 7:00 a.m. to 11:00 p.m. on the above mentioned days.
All customers are advised to avoid washing clothes during this time, as there could be some discoloration of water. This will clear up in a few hours once the hydrants have been flushed. This is a procedure that must be completed semi-annually. All area maps can be located below.

GMWSS would like to thank all of its customers in advance for their cooperation and patience and apologize for any inconvenience this may cause.

Click the map for detailed area schedules.
---

Please be advised:
GMWSS will be implementing preventative measures starting today to help keep staff healthy and maintain service to our customers while our community deals with COVID-19.
Please note:
the Customer Service Lobby will be closed until further notice.
For assistance, please use our drive thru or night drop box, or call 502-863-7816.
You can make a payment at
http://GMWSS.com/payments
or call 502-863-7816 and press 8 to use the automated phone payment system.
Please remember, communication of credible information is paramount to prevent fear and panic for GMWSS staff and customers. First and foremost, please understand that drinking water supplied to our customers is safe for use/consumption. Our Water and Wastewater Treatment Plants utilizes high intensity ultra-violet light to disinfect drinking water and wastewater as the final step our treatment process. Per the CDC, there is no evidence that COVID-19 survives the disinfection process utilized by municipal water systems. COVID-19 has not been detected in drinking water.
References and Resources:
https://www.wedcohealth.org/Novel%20Coronavirus%20(COVID-19)%20Guidance%20for%20Harrison%20County%20-%20March%207%202020-1.pdf
https://chfs.ky.gov/agencies/dph/pages/covid19.aspx
https://www.cdc.gov/coronavirus/2019-nCoV/index.html
https://www.awwa.org/Resources-Tools/Resource-Topics/Coronavirus
https://www.wef.org/news-hub/current-priorities/coronavirus/
---
GMWSS has partnered with Invoice Cloud for online or automated phone payments, and e-mail or text notifications.
• Make one-time payments or check balances without registering.
• Make payments over the phone using our automated system any time of day.
Or by registering you have access to additional of benefits. Now you can:
• Store several different payment options (credit or debit cards, checking accounts or savings accounts).
• Make a one-time payment at any time from your home or work computer.
• Schedule a one-time payment to be processed on a specific date.
• Enroll in Auto-Pay which will automatically pay all your bills on the day they are due.
• Enroll in Pay by Text (with text confirmations).
• Send an online request to our office.
• Review your invoice and payment history.
• Switch to paperless (e-mail or text) billing.
Click for additional information.
---
Precipitation Information
Updated 3-31-2020
(Watershed is most critical)
Georgetown Water Plant
Prev. Active Day • 0.37 in
Month to Date • 4.84 in
Year to Date • 13.79 in
+/- Month TD • 0.44 in
+/- Year • 3.32 in
2019 Year End • +15.62 in
2018 Year End • +36.81 in
UK Ag. Weather Data
Royal Spring Watershed
Prev. Active Day • 0.5 in
Month to Date • 6.55 in
Year to Date • 15.41 in
+/- Month TD • 2.15 in
+/- Year TD • 4.93 in
2019 Year End • +9.88 in
2018 Year End • +37.73 in
USGS Royal Spring Data
---
City and County Maps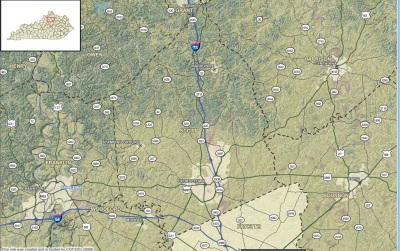 ---