GMWSS Portal
• Make a Payment
(Credit / Debit / e-check)
• Schedule Payments
• Pay by Text
• Check Account Balance
• View Usage History
• Sign Up for E-Bills
(Additional Info)
Public Notices
---
Fire Hydrant Flushing
Georgetown Municipal Water & Sewer Service (GMWSS) will begin flushing fire hydrants in the Georgetown/Scott County service area on Monday, October 15, 2018, and will continue until Friday, November 2, 2018. Flushing hours will be from approximately 8:00 a.m. to 4:30 p.m. on the above mentioned days. Please be advised that these are the following dates for Area 1 & 2, 10/15 thru 10/19; Areas 3 & 4, 10/22 thru 10/26; Areas 5 & 6, 10/29 thru 11/02; Area 6, 10/29 thru 10/31 and Area 7, 10/29 thru 10/31. Stamping Ground hydrant flushing will be 10/29 thru 10/31. All customers are advised to avoid washing clothes during this time, as there could be some discoloration of water. This will clear up in a few hours once the hydrants have been flushed. This is a procedure that must be completed semi-annually.
All area maps can be located here.

GMWSS would like to thank all of its customers in advance for their cooperation and patience and apologize for any inconvenience this may cause.
---
To GMWSS Customers:
Each year the Bluegrass Area Development District, made up of seventeen counties in Central Kentucky, publishes a water and wastewater rate book. In October 2017, the latest update was released. According to the report:
GMWSS has the lowest water and wastewater utilities rates in Central Kentucky.
2017 Water Rates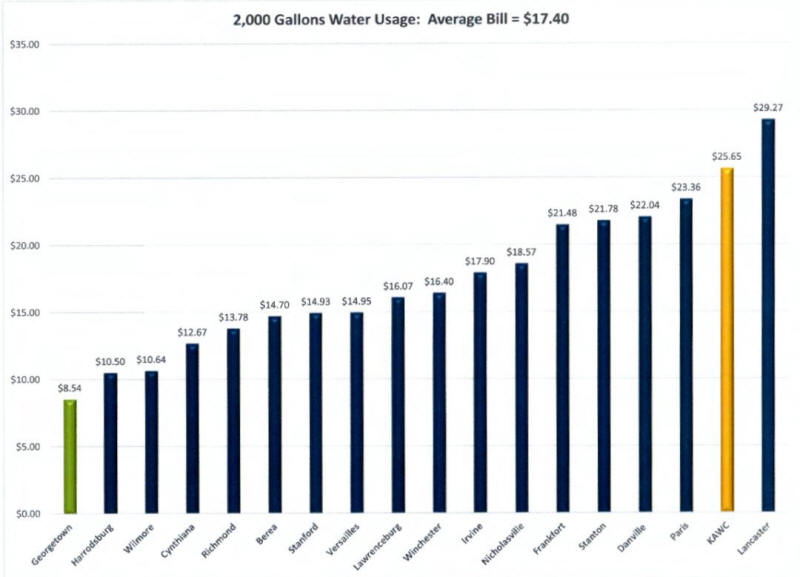 2017 Sewer Rates

---
GMWSS has been made aware that there is an intermediate payment gateway service called DOXO that is posing as a GMWSS partner of sorts.
Their service appears as a link in some Internet web searches with GMWSS' information.

DOXO is not affiliated with GMWSS. They also charge a service fee, unlike GMWSS.
Doxo payments take 3-5 business days to be sent, and GMWSS has no way to confirm that a payment is in process.
GMWSS recommends to only use our FREE and immediate payment service (directly from the GMWSS.com website) or your own bank for best security and financial protection.
---
Lead Questions and Answers
---
Customer Service, Accounting, Engineering, and Managements Departments are available in one central location at 1000 W. Main Street.
Click for more details.