GMWSS Portal
• Make a Payment
(Credit / Debit / e-check)
• Schedule Payments
• Pay by Text
• Check Account Balance
• View Usage History
• Sign Up for E-Bills
(Additional Info)
GMWSS Service Connection Requirements
---
Plumbing Permit Application

The owner or their plumber will need to bring the APPROVED Plumbing Permit to our office (Provided by the Health Department) and sign up for service.

GMWSS bases the commercial and industrial sewer connection fees on Equal Residential Units (ERU's). Staff will determine the connection fees based on existing usage from an existing facility (provided by the applicant) or by similar users in our system.

One ERU = 4,500 gallons per month, normal residential usage.

One ERU = $1,500.00.

Sanitary Sewer connection fees for commercial and industrial users in our "sewer only" areas are due prior to GMWSS signing the Final Development Plan.

Residential Sewer connection fees are $1,500.00.

GMWSS bases water connection fees on the size of the meter.
GMWSS does not size the water meters for the customers.
• 5/8"x3/4" meter = $1,500.00
• 1" meter = $2,100.00
• 2" meter = $4,350.00
• 3" meter = $16,000.00
• 4" meter = $21,000.00
Water and sewer service connection fees must be paid at the office when signing up for service. GMWSS accepts cash, checks or money orders.
GMWSS will not accept checks mailed in to the office.

Service must be requested in person and all required forms must be filled out and submitted to personnel at 1000 W. Main St in Georgetown.
All commercial and Industrial users are required to have a testable backflow preventer installed on the customer side of the water meter.
The meter will not be set until the backflow preventer is installed and approved.

Residential users could be required to install a testable backflow preventer under specific circumstances.
---
Click map to verify the services GMWSS provides in your area.
Please note that if GMWSS provides only Sewer coverage in your area, then you must also sign up for water service with Kentucky American Water (and vice versa).
GMWSS bills Garbage Collection for the City of Georgetown.
Click for additional Garbage Information.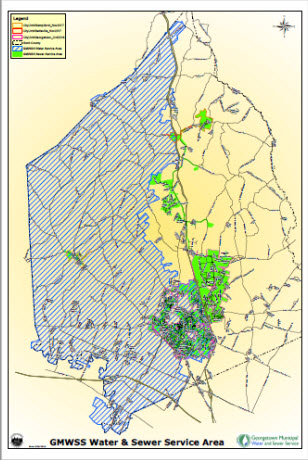 ---