GMWSS Portal
• Make a Payment
(Credit / Debit / e-check)
• Schedule Payments
• Pay by Text
• Check Account Balance
• View Usage History
• Sign Up for E-Bills
(Additional Info)
Commercial Customer Information
Please note that if GMWSS provides only Sewer coverage in your area, then you must also sign up for water service with Kentucky American Water (and vice versa).
GMWSS bills Garbage / Recycling Collection for the City of Georgetown
(with services provided by Republic Services).
Additional Garbage Information.
Click map to verify the services GMWSS provides in your area.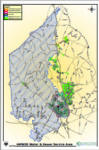 ---
Commercial Customers - Come to the office to sign up for service.
Specifications for Engineers and Contractors
All new developments, new subdivision construction and design, etc.
shall follow these specifications and standard details:
Water and Sewer Availability Request Form
Water / Sewer Availability Request Form (March 2020)

- Download Form and use Adobe Acrobat Reader to have it perform automatic calculations.
---
Water Specifications
---
Standard Water Details
---
Standard Sewer Details
---
Fire Hydrant Protocol